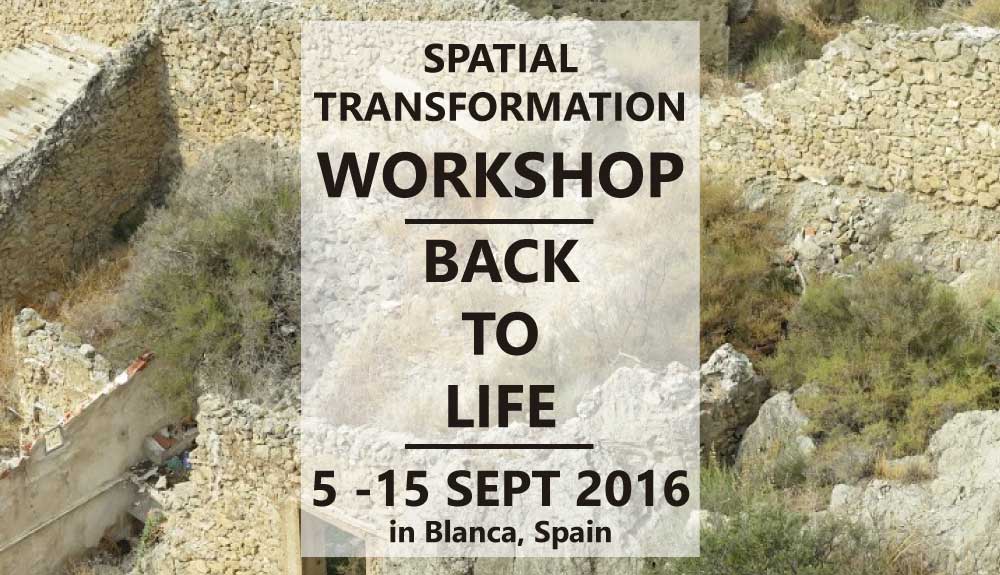 //scroll down for English//
5th-15th September 2016 in Blanca (Murcia), Spain
Blanca, una pequeña población sita a los pies de la volcánica roca La Peña Negra, está reinventando parte de su estructura, impulsada por la plataforma artística AADK Spain. Este proceso consiste en redescubrir el potencial de un área abandonada. El taller Back to life, es un paso para seguir desarrollando este impulso, pensado desde diferentes campos y perspectivas.
El taller es una experiencia de diez días de convivencia e intercambio de ideas entre los participantes, para pensar y ejecutar la transformación de un espacio.
20 participantes internacionales, de diversos campos creativos, trabajarán sobre la zona urbanizada que se encuentra bajo las rocas de la Sierra del Solán. Un conjunto de arquitecturas informales que sirvieron originalmente como "área de sustento", mayoritariamente utilizadas como corrales y casas de aperos. Estas estructuras están hoy abandonadas casi por completo y en distintos estados de degradación.
En el taller se explorará el entorno a intervenir a través de distintos ejes: construcción, cartografía, paisaje, derivas, performance, formato fílmico, gente, vegetación.
Arquitectos invitados:
Thilo Folkerts (Berlin-100Landschaftsarchitektur) y Enrique Nieto (Universidad de Alicante).
Imparten: siete profesionales internacionales y de distintas disciplinas, junto a 7 profesionales internacionales y  miembros de equipo de AADK Spain, Elena Azzedin, Juan Conesa y Abraham Hurtado como expertos del contexto.
English
Blanca, a small town huddling at the foot of Peña Negra, a volcanic black rock, is reinventing parts of its structure, helped by impulses from artists' platform AADK Spain. Part of this process is the rediscovery of the actual potentials of a shrunk city. The workshop Back to life will be a step in further developing these impulses, thought from different fields and points of view.
The workshop is a ten full days experience of common living at Centro Negra, and continuous exchange where both —participants and tutors—will think and create the transformation of a space.
20 international participants, in the creative field, will focus on the urban situation where the town meets the steep rocks of the Solan's range. The area to intervene, consists of set of small informal architectures originally served as micro ''subsistence city'', mainly used for chicken raising and husbandry. These structures are now almost all abandoned and in various stages of decay.
The site exploration process will develop through different laboratories and approaches: CONSTRUCTION, MAPS, LANDSCAPE, WALKS, PERFORMANCES, MOVIE MAKING, PEOPLE, VEGETATION.
In a final restitution, participants will translate the collected informations to develop proposals for interventions in the Peña Negra, the old town of Blanca.
Mentors: Thilo Folkerts (Berlin-100Landschaftsarchitektur) and Enrique Nieto (University of Alicante).
Tutors: seven international and multidisciplinary tutors along with the context expert: Abraham Hurtado, Juan Conesa and Elena Azzedin (AADK Team)